Posted By fidesquaerens on January 31, 2013
Over at FB, Kem asked me what my life was like at 22.
Age I was given: 22
Dated: No one
Lived: Boone, NC
Worked: administrative assistant at Samaritan's Purse
Feared: Pretty much everything. Twenty-two was not a good year – I had just been rocked by the death of someone not much older than me, was trying to collect my last few credits to finish up my BS, living at home with my parents and trying to find something resembling a career. So take your pick: mortality, perpetual dependence, etc. Not exactly a happy point in my life
Drove: the Appal-cart, the closest Boone had to public transportation. Mostly I walked.
***************
Erulisse of the one L asked for five things I'm happy for, all beginning with the letter G. After thinking about my life at twenty-two I want a little escapism, so let's keep this fannish.
1. Gavroche, the little boy in Les Miserables. There's just something about his character that both breaks and melts my heart.
2. Gaersum, one of my favorite OCs from the Tolkien fanfic. If you recognize the name, you know why he is worthy of inclusion. Just thinking of the tattoo-fic has me smiling.
3. Alec Campion, of Swordspoint fame. Neither of which names begins with a G, admittedly, but the whole swordspoint 'verse occupies a special place in my heart simply because it moves beyond the 'G' in LGBT to just people. Richard and Alec (and for that matter Theron and Basil in Fall of the Kings – I'm yet to pick up Privilege of the Swords) are just people. Passionate, well-rounded, with their secrets, and foibles, and hidden strengths, and… well, *Alec*. What more can I say about him? Even in Swordspoint there's such a hidden depth to his character but also such a pain.
Yes, I know this is a stretch on the G theme. But Alec really is just that awesome.
4. Grumpy Cat. Something about his face, the way he is so delightfully pessimistic is utterly charming.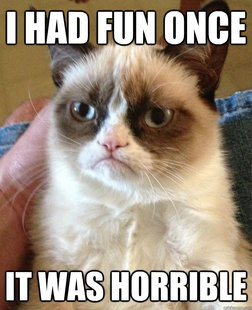 5. And finally: Gollum. In particular movie!Gollum. I have my quibbles about pretty much all the Jackson movies, but I don't think a single one of his scenes have ever disappointed. What more can I say than this?
Also, a bonus item: Good morning, and Gandalf, all rolled into one.
"Good morning!" said Bilbo, and he meant it. The sun was shining, and the grass was very green. But Gandalf looked at him from under long bushy eyebrows that stuck out further than the brim of his shady hat. "What do you mean?" he said. "Do you wish me a good morning, or mean that it is a good morning whether I want not; or that you feel good this morning; or that it is morning to be good on?"

"All of them at once,' said Bilbo. "And a very fine morning for a pipe of tobacco out of doors, into the bargain. If you have a pipe about you, sit down and have a fill of mine! There's no hurry, we have all the day before us!" Then Bilbo sat down on a seat by his door, crossed his legs, and blew out a beautiful grey ring of smoke that sailed up into the air without breaking and floated away over The Hill.

"Very pretty!" said Gandalf. "But I have no time to blow smoke-rings this morning. I am looking for someone to share in an adventure that I am arranging, and it's very difficult to find anyone."

"I should think so – in these parts! We are plain quiet folks and have no use for adventures. Nasty disturbing uncomfortable things! Make you late for dinner! I can't think what anybody sees in them," said our Mr. Baggins, and stuck one thumb behind his braces, and blew out another even bigger smoke-ring. Then he took out his morning letters, and began to read, pretending to take no more notice of the old man. He had decided that he was not quite his sort, and wanted him to go away. But the old man did not move. He stood leaning on his stick and gazing at the hobbit without saying anything, till Bilbo got quite uncomfortable and even a little cross.

"Good morning!" he said at last. "We don't want any adventures here, thank you! You might try over The Hill or across The Water." By this he meant that the conversation was at an end.

"What a lot of things you do use Good morning for!" said Gandalf. "Now you mean that you want to get rid of me, and that it won't be good till I move off."

"Not at all, not at all, my dear sir! Let me see, I don't think I know your name?"

"Yes, yes, my dear sir – and I do know your name, Mr. Bilbo Baggins. And you do know my name, though you don't remember that I belong to it. I am Gandalf, and Gandalf means me! To think that I should have lived to be good-morninged by Belladonna Took's son, as if I was selling buttons at the door!"
Comment if you'd like an age or a letter, or both – just make it clear which you'd prefer.